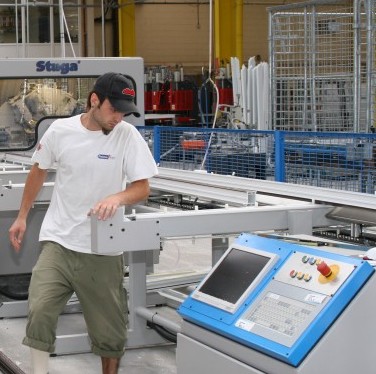 Flowline/ZX3-Update Automatic Sawing & Machining Center – One currently available to be refurbed in 2022/23 feeding right to left.
We have recently acquired as part-ex one of our Stuga Flowlines. This machine is planned for total rebuild and will be available for delivery at an agreed date in 2022/23.
This machine flows from right to left and will be rebuilt with full upgrade to current ZX3-upgrade specification. This will end up as a very good value for money top quality rebuild with a full guarantee and we are able to offer references with fabricators that have purchased the same such rebuilds over the last five years. The entire computer, control system and software will be to the latest current spec and run on Microsoft Windows 10, including new control system and replacement of PLC, servo motors and drives. No item on this machine will be obsolete once completed. ****NOW INCLUDES LATEST TRU-LOC GRIPPER SYSTEM AND 'Y'- DRIVE NOTCHING.
As usual Stuga will provide a full one year no quibble parts and labour warranty. We have already placed over thirty of these back into production with great success.
These machines are very popular and don't come up often enough.
NOTE! The machine pictured is not the actual machine offered but looks the same. . Approximate footprint is 15m x 4.3m but size does vary according to version/age.
PLEASE CALL 01493 742348 AND ASK FOR 'MACHINERY SALES'.
Machine/Refurb Details
As with all such refurbs the machine is fully stripped, dry ice blasted and repainted where necessary. CNC drives and control system are replaced and Microsoft Windows 10 is loaded. We now replace the entire control system with Beckhoff control including replacing PLC, motors and drives. Valves, cylinders, motors and switches are replaced as required and the machine is carefully rebuilt to look and work like new. These machines come with offcut conveyor, dust extractor and label printer. When delivered to site Stuga fully train staff reference maintenance, health & safety, operation and fault finding. Each machine is fitted with new internet connected cameras and internet ready diagnostic link for fast fault finding by Stuga personnel. We don't claim these machines are the same as new otherwise they would cost the same as new but they are extremely good value for money and we have had much success with them.
Machine Type
Flowline to ZX3 Refurb
Contact Request