We currently have no Ecoline prepping centers available until 2023 to be fully refurbished in our Norfolk factory but the delivery is very extended due to the volume of orders we are enjoying. When available these machines are rebuilt properly to the latest Ecoline specification and offered with 12 months parts and labour warranty. This stand-alone prepping center can produce all normal preps required for uPVC windows and doors including 'V' notches. The Ecoline requires barcode technology on the cut pieces but can work with standard double mitre saw or a Stuga Autocut saw. Output can be expected to be at least 400 plus windows per week depending on styles and operations involved. NOTE! All Ecolines will now have the latest  control system fitted along with Microsoft Windows front end software. A small number of models have a shorter footprint than shown (subject to availability).
Note! Currently we have one on offer for delivery this year. It is the latest version with the current control system and software. Please call 01493 742348 and ask for Machine Sales for further details.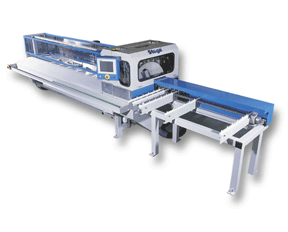 The picture is of a right to left feeding machine but they do come in both hands (subject to availability). Left to right feed is not so common.
Please note that due to the sudden demise of Smart Drive (in 2017) who provided the control systems for the Ecoline almost all of these machines at fabricators are currently classified as 'totally obsolete'. Stuga has designed a new control system and software in order to give this machine a new and safe lease of life. This applies also to all machines currently in the market which we are striving hard to keep working. Please contact Stuga service to discuss having your machine upgraded otherwise you may experience an extremely long delay in getting your machine back into production if the control system fails. The machine will have to return to Stuga for major repairs.
The new system has been designed installed and tested but is also now working on several recently refurbished machines in the field with results well beyond our expectation. The new system is not only reliable and easy to use but makes the Ecoline much faster in all operations. The upgrade includes the universal gripper and facility to use two different cutter sizes. Call 01493 742348 and ask for Stuga Service to get more details or fill in the contact form on this website.
Machine/Refurb Details
Fully and properly refurbished in our Great Yarmouth factory hence the full 12 months part and labour warranty.
Functions
Drainage, espags, trickle vents and all door preps including letter boxes.
Machine Type
Ecoline stand-alone prepping center
Contact Request