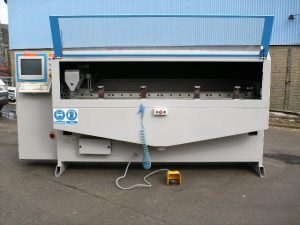 We currently have one R22s in stock ready for refurb. These machine are being regularly purchased and rebuilt by Stuga creating happy customers.
We also have an R35H and R41H in stock. 
We often have a R22-S Router for total rebuild and sale with full warranty as new. This machine will run on Microsoft Windows software and have the latest drives and control systems fitted. This automatic router is suitable for aluminium or uPVC and is freeley reprogrammable through three CNC axis.
All Stuga routers are designed to machine aluminium but work exactly the same on uPVC
The picture is a generic picture and not of a machine being offered
Machine/Refurb Details
Full rebuild to latest specification with Windows software and new control system.
History
A full rebuild means that history is not relevant but please call for more information. Stuga routers are shown in the Stuga general brochure or please call Stuga on 01493 742348.
Machine Type
Stuga Router
Contact Request
Contact me when similar machines become available.